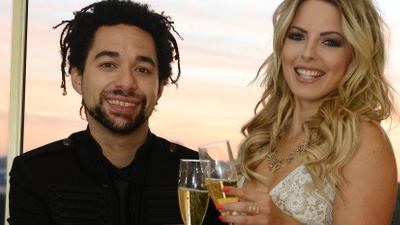 Dates in May 2017
CATCH THE UK'S MOST SUCCESSFUL COUNTRY ACT, THE SHIRES, ON THEIR CURRENT SOLD OUT UK WINTER TOUR AND CELEBRATE THEIR LANDMARK YEAR

NEW ALBUM 'MY UNIVERSE' BECOMES FASTEST SELLING UK COUNTRY ALBUM OF ALL TIME

ONE OF BIGGEST BREAKTHROUGH ACTS OF 2016 & BIGGEST SELLNG COUNTY ACT IN THE UK IN 2016

SIGNED MAJOR US RECORD DEAL WITH BIG MACHINE LABEL GROUP

"Spearheading a British country boom" - Daily Mail
"Voices entwine and musical magic ensues"- The Independent on Sunday

Tuesday 6 December, London - UK Country superstars The Shires will tour the UK in spring 2017, performing at venues across the UK culminating in a performance at the prestigious London Palladium on 2 May 2017.

The Shires stated: "We are so happy to be hitting the road again in 2017 – we love playing in the UK, the audience for UK country is growing and growing and every tour and show we do, we see more and more new faces! It's been such an amazing year but we can't wait to get started on the next, bring on 2017!"

The Shires have celebrated a landmark year in 2016. Key moments on the live music scene include a packed summer festival schedule, with their first headline performance at Glastonbury Festival on the Acoustic Stage and a performance at CMC Rocks to look forward to in Australia in 2017.

The Shires released their brand new album 'My Universe' in September, storming the charts, landing at No.3 and becoming the fastest-selling UK Country album of all time. They also joined the ranks of prominent US Big Machine Label Group Country artists Tim McGraw, Florida Georgia Line and Thomas Rhett, by signing an exclusive recording deal with the leading US Country music record label.

The Shires were not only the biggest-selling Country act in the UK in 2016 (including US artists), but have positioned themselves comfortably alongside more mainstream pop acts, being one of the biggest UK debut acts of any genre last year. The duo set the tone with their first album, 'Brave' in 2015, becoming the trailblazers of the UK Country music movement ,which has seen a sea change in the opinion of the British public, who have embraced the genre.

Fans will be glad to know they won't need to wait until 2017 to catch their favourite UK country group – as The Shires are currently on a sold-out winter tour of the UK, with a headline performance at 02 Shepherd's Bush Empire on Sunday 11 December, set to bring this epic year to a close in style – see below for dates and further info.


REMAINING DECEMBER 2016 UK TOUR DATES:

O2 ABC, Glasgow – Wednesday 7th December, 2016
Barbican, York – Thursday 8th December, 2016
O2 Academy, Liverpool – Friday 9th December, 2016
O2 Shepherd's Bush Empire, London – Sunday 11th December, 2016

2017 SPRING UK TOUR:

April 18th: Blackpool Opera House
April 19th: Aberdeen Beach Ballroom
April 20th: Edinburgh Usher Hall
April 23rd: Bournemouth Pavilion Theatre
April 24th: Guildford G Live
April 25th: Warwick Arts Centre
April 27th: Southend Cliffs Pavilion
April 28th: Folkestone Leas Cliff Hall
April 30th: Nottingham Royal Centre
May 1st: Ipswich Regent Theatre
May 2nd: London Palladium

For more information and tickets please visit: http://www.theshiresmusic.com‎