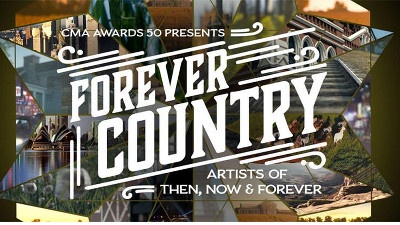 30 artists on one song!
After 10 days of speculation, the star-studded list of 30 former CMA Award winners in the "Forever Country" music video has been announced.
"The artists who stepped up to participate in this one-of-a-kind project span all five decades of the CMA Awards," said Sarah Trahern, CMA Chief Executive Officer. "They represent the heart of this song, the strength of our relationship with the fans, and the future of Country Music."
"Forever Country" is a fresh take on three Country classics: John Denver's "Take Me Home, Country Roads," Willie Nelson's "On the Road Again," and Dolly Parton's "I Will Always Love You." Denver, Nelson, and Parton are all former CMA Entertainers of the Year.
Celebrating the 50th Anniversary of the CMA Awards, the biggest music video in Country Music history includes the following CMA Award winners: Alabama, Jason Aldean, Dierks Bentley, Brooks & Dunn, Luke Bryan, Eric Church, Brett Eldredge, Vince Gill, Faith Hill, Alan Jackson, Lady Antebellum, Miranda Lambert, Little Big Town, Martina McBride, Tim McGraw, Ronnie Milsap, Kacey Musgraves, Willie Nelson, Brad Paisley, Dolly Parton, Charley Pride, Rascal Flatts, Reba, Darius Rucker, Blake Shelton, George Strait, Randy Travis, Carrie Underwood, Keith Urban, and Trisha Yearwood.
#ForeverCountry quickly became a top trending topic on Twitter, while the single skyrocketed to the Top 10 songs on digital retailers, topping the Country sales list.
"Forever Country," the single was produced by CMA Award winner and CMA Board member Shane McAnally and the video was directed by Grammy Award-winning director Joseph Kahn.
Universal Music Group Nashville is exclusively partnering with CMA to market and distribute "Forever Country" worldwide. The song will be available at all digital retail and streaming outlet partners. CMA profits from the sales and streaming of "Forever Country" will benefit music education causes through the CMA Foundation.