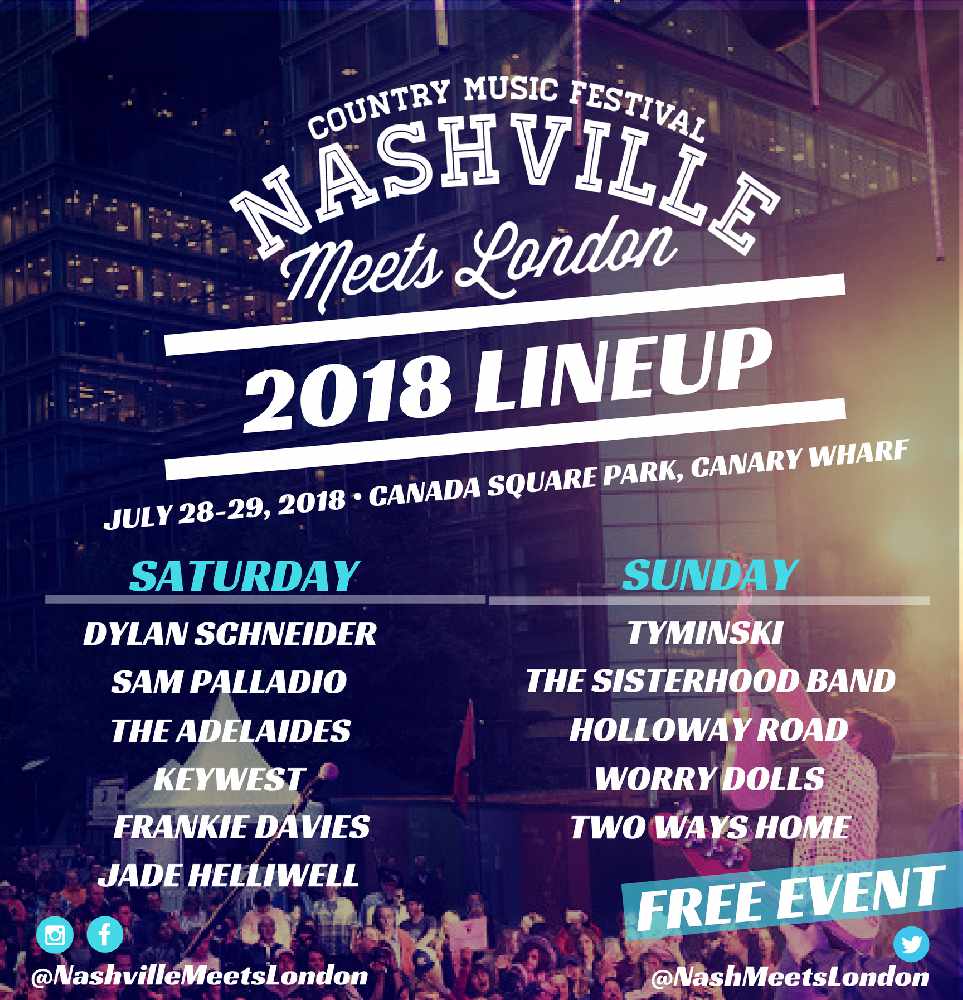 It's going to be a weekend of awesome music from the UK and USA, and it's completely free! Check out the lineup here...
Nashville Meets London 2018 Music Festival Returns with Highly Anticipated Talent Lineup
Representing the USA are Sam Palladio, Tyminski, The Sisterhood Band, and Dylan Schneider; Representing the UK are The Adelaides, Frankie Davies, Jade Helliwell, Holloway Road, Keywest, Two Ways Home, and Worry Dolls
2-day FREE event set for July 28-29 in Canada Square Park, Canary Wharf, London
(Nashville, Tenn. – May 8, 2018) – The 2018 lineup has been announced for the highly anticipated FREE summer music festival, Nashville Meets London, set for July 28 - 29 in Canada Square Park, Canary Wharf, London. This year's talent representing the US are 'Nashville' actor, singer-songwriter and musician Sam Palladio, multi-award-winning vocalist and instrumentalist Tyminski, Rod Stewart's daughter, Ruby Stewart and Alyssa Bonagura's female Country Rock duo The Sisterhood Band, and Dylan Schneider, who has been labeled by Billboard as "Country Music's Next Rising Star" and has surpassed 1.3 million monthly listeners on Spotify.
Representing the UK are Country Pop trio The Adelaides, singer-songwriter Frankie Davies, BCMA Female Vocalist of The Year Jade Helliwell, UK country-pop duo Holloway Road, multi-award-winning and multi-platinum selling folk, rock and pop band Keywest, Alt-country/folk duo Two Ways Home, and the tenacious female duo and multi-instrumentalists Worry Dolls.
In addition to the two-day festival, Nashville Meets London recently announced that prior to the festival's kick-off, on Friday, July 27, Buck' N Bull Saloon and NML will come together to host an official festival pre-party; a 'Southern Fridays' boat cruise down the River Thames. The programme will include acoustic performances by Liv Austen, Frankie Davies, and Raintown, and a DJ set by Baylen Leonard featuring fan-favorites spanning Country and Americana. More information surrounding the pre-festival cruise is available by visiting www.bucknbullsaloon.com.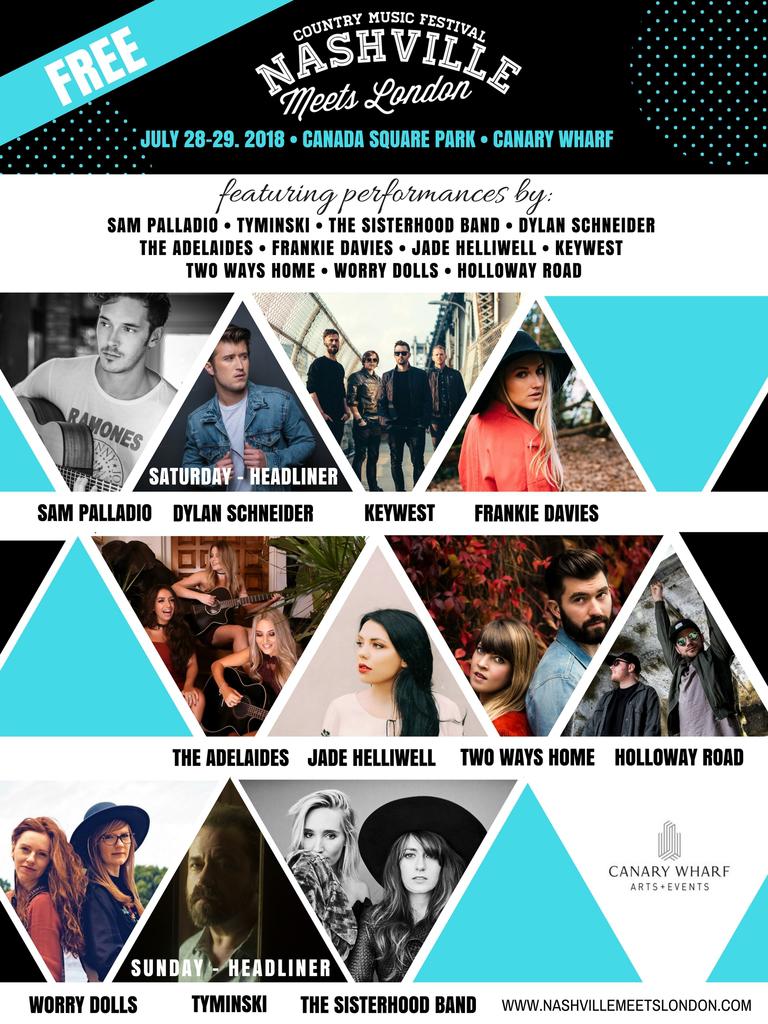 Since the inaugural Nashville Meets London festival in August 2016, the festival has showcased popular performances by American Young, Logan Brill, Ashley Campbell, Russell Dickerson, Ty Herndon, Sam Outlaw, Logan Mize, Angaleena Presley, Lucie Silvas, and Jo Smith, alongside U.K.-based acts Yola Carter, Flats & Sharps, Kevin McGuire, Megan O'Neill, Pauper Kings, Hannah Rose Platt, Raintown, Wildwood Kin and William the Conqueror. The event has drawn an impressive number of people and left an overwhelmingly positive response among UK-based Country music fans and locals.
A recent surge in the popularity of Americana and Country music has created a demand for more opportunities in the UK. In May 2018, Nashville Meets London launched a monthly residency, Nashville Meets London Presents, providing an opportunity for more artists to be introduced into the market throughout the months leading up to the annual festival.
The site of this year's festival, Canada Square Park, is located in the heart of Canary Wharf, which have over 300 shops, bars, and restaurants. Canary Wharf Arts + Events presents a world class, year-round arts and events programme, offering tenants and visitors over 200 diverse and culturally inspired events throughout the estate. The majority of these events are free for all and range from outdoor theatre, live music concerts, sporting events, dance performances, community showcases, global street food and family-friendly shows.
Nashville Meets London is co-produced by Canary Wharf Arts + Events, Peter Conway Management and Nashville-based agency, The AristoMedia Group. U.K. based radio DJ Baylen Leonard leads the Artistic Programme and serves as Host.
Please note: The two-day event is open to the public and free for all to enjoy. Audience space is unreserved and limited. For everyone's enjoyment, portable furniture is not permitted and for everyone's safety, glass bottles and glasses are not permitted.