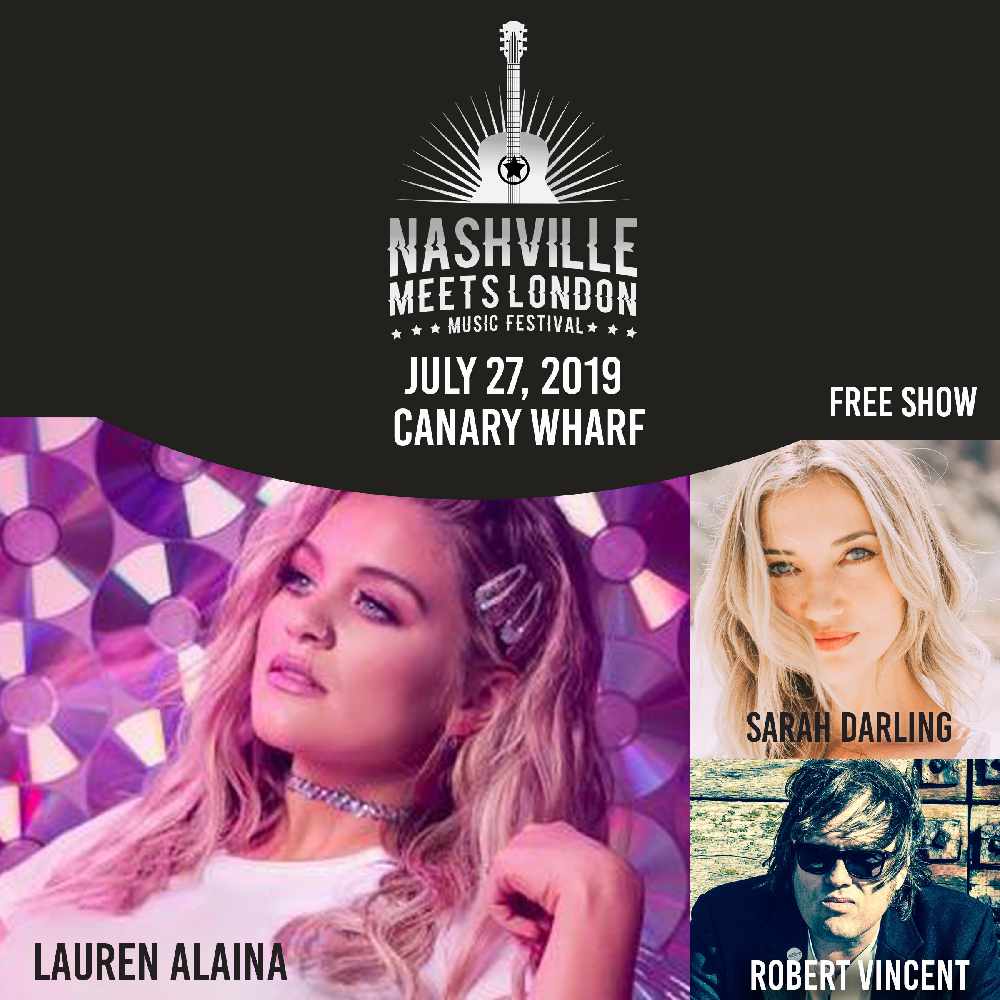 It's a free concert in Canary Wharf
Lauren Alaina, Sarah Darling, and Robert Vincent To Perform at Nashville Meets London in Canary Wharf
(NASHVILLE, Tenn. – March 29, 2019)

Representatives of the international music brand,

Nashville Meets London (NML),

have officially announced an
advance
lineup of artists set to perform during this year's

Nashville Meets London Music Festival, to be held July 27, 2019. 2018 ACM New Female Vocalist of the Year,

Lauren Alaina, will headline this year's festival. Other performers include

Sarah Darling

and

Robert Vincent, who took home the UK Americana Music Association's award for "Album of the Year." Additional artists will be released in the coming weeks.



Nashville Meets London week is scheduled for

July 24-27, 2019. Kicking off the event series is

Nashville Meets London Presents at PizzaExpress Live!

on Wednesday and Thursday, July 24/25, followed by the return of the

Nashville Meets London 'Southern Fridays' Boat Cruise, in partnership with

Buck' N Bull Saloon, on Friday, July 26 and the popular

Nashville Meets London Music Festival

on Saturday, July 27 at Canary Wharf.

Launched in August 2016 as a music festival, Nashville Meets London has developed into a global music brand providing opportunities that support the globalization of Country and Americana music. The brand's mission is to expand on the cultural and economic exchange of music while driving more synergy between the recording and live performance industries in the United States and the UK.

Each year, the Nashville Meets London Music Festival features established and exciting new talent from Nashville, Tennessee
, and
the UK. The festival, which has become London's largest FREE Country music festival, is held at Canada Square Park in Canary Wharf and is part of Canary Wharf's Arts + Events programme. This year marks the fourth consecutive year in which the event has been held. Past performers include American Young, Ashley Campbell, Yola Carter, Russell Dickerson, Holloway Road, Sam Outlaw, Sam Palladio, Angaleena Presley, Raintown, Lucie Silvas, The Sisterhood Band, Tyminski, and many more.



The site of this year's festival, Canada Square Park, is located in the heart of Canary Wharf, which has over 300 shops, bars, and restaurants. Canary Wharf Arts + Events presents a world-class, year-round arts and events programme, offering tenants and visitors over 200 diverse and culturally inspired events throughout the Estate. The majority of these events are free for all and range from outdoor theatre, live music concerts, sporting events, dance performances, community showcases, global street food, and family-friendly shows.

In 2018, Nashville Meets London and Buck n' Bull Saloon partnered to launch the 'Southern Fridays' Boat Cruise prior to the Nashville Meets London Music Festival. While cruising down the River Thames, the onboard program features acoustic performances and a DJ-set. The inaugural event was SOLD OUT. Tables and tickets are now available for purchase



Last year, Nashville Meets London also launched Nashville Meets London Presents at PizzaExpress Live! Through Spring and Summer, NML hosts a monthly residency the last Wednesday of every month at PizzaExpress Live at



Follow the brand on Facebook (@NashvilleMeetsLondon), Twitter (@NashMeetsLondon), Instagram (@NashvilleMeetsLondon) and on Spotify.