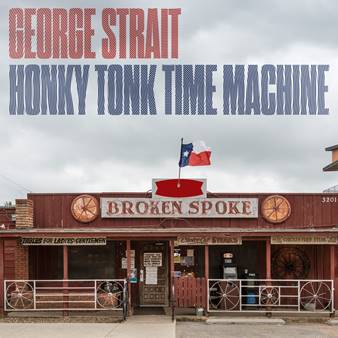 Honky Tonk Time Machine
Honky Tonk Time Machine will be his 30th Studio Album
Iconic entertainer and King of Country Music George Strait announces his brand-new album, 'Honky Tonk Time Machine', due out March 29th on Snakefarm Records in the UK.

Comprised of 12 original titles plus Strait's version of 'Old Violin', originally recorded by late Outlaw Country pioneer Johnny Paycheck, 'Honky Tonk Time Machine' marks an incredible 30th career studio outing for the Texan legend. Strait, who produced the album alongside Grammy Award winner Chuck Ainlay, wrote eight of the 13 tracks including 'Sing One With Willie', a duet with Willie Nelson – the pair happily debuted the song at a recent Nashville show marking the first time the two country heavyweights have shared the same stage.

The 'Honky Tonk Time Machine' album pre-order is available here, and fans can hear the new songs 'Código' (a tribute to Strait's brand of tequila, written with his son, Bubba, plus Dean Dillon) and 'God and Country Music' here. 'God and Country Music', written by Luke Laird, Barry Dean and Lori McKenna, introduces a very special vocal guest in Strait's grandson, Harvey Strait.

"I'm really excited to have some new music coming out," shares Strait. "It's been about two years since I've released a record. Also, it was a very special thing for me to be able to write and sing one with the legend Willie Nelson. I hope everyone enjoys listening to 'Honky Tonk Time Machine' as much as I enjoyed making it."

'Honky Tonk Time Machine' track-listing:-
1. 'Every Little Honky Tonk Bar'
Written by George Strait, Bubba Strait and Dean Dillon
2. 'Two More Wishes'
Written by Jim Lauderdale and Odie Blackmon
3. 'Some Nights'
Written by Bubba Strait, Brice Long and Phillip White
4. 'God and Country Music' (with Harvey Strait)
Written by Luke Laird, Barry Dean and Lori McKenna
5. 'Blue Water'
Written by George Strait, Bubba Strait and Dean Dillon
6. 'Sometimes Love'
Written by George Strait, Bubba Strait and Dean Dillon
7. 'Código'
Written by George Strait, Bubba Strait and Dean Dillon
8. 'Old Violin'
Written by Johnny Paycheck
9. 'Take Me Away'
Written by George Strait, Bubba Strait and Dean Dillon
10. 'The Weight of the Badge'
Written by George Strait, Bubba Strait and Dean Dillon
11. 'Honky Tonk Time Machine'
Written by Bubba Strait, Brice Long and Bart Butler
12. 'What Goes Up'
Written by George Strait, Bubba Strait and Jeff Hyde
13. 'Sing One with Willie' (featuring Willie Nelson)
Written by George Strait, Willie Nelson, Bubba Strait and Buddy Cannon

With an unmatched 60 singles hitting the top of the charts – more than any other artist in any genre – during the span of his 30-year career, Strait is the undeniable King of Country Music. He has collected 33 Platinum or multi-Platinum-selling albums, more than any country artist and ranking third across all genres behind only The Beatles and Elvis Presley! Strait is also the only act in history to have a Top 10 hit every year for over three decades, and has sold nearly 70 million albums and earned more than 60 major entertainment industry awards, including induction into the Country Music Hall Of Fame in 2006.

Strait will play a series of major US arena shows in support of the release.