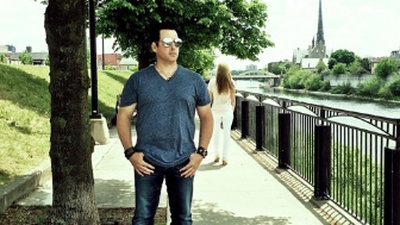 UK Tour from Dawson Reigns
Dawson Reigns to tour the UK!
Here's a press release with all the info...
If it's artists like Toby Keith, Jason Aldean, Chris Young, Dierks Bentley, Luke Bryan, and Cannan Smith, guys like those, who make you reach for that repeat button and get you cranking up the volume, then DAWSON REIGNS is definitely a name you'll want to remember. Like each of those country 'all-stars' mentioned above, 'Music City' based Dawson has that 'something special' about him that could certainly see him reign in the hearts of country music lovers in Ireland and the UK.
Why so, I hear you ask? Well, let me fill you in!
Dawson's forthcoming single, the brand new and brilliantly Nashville sounding, 'LOVE WAS ALL YOU', comes from the pen of none other than the aforementioned Cannan Smith (of 'Love You Like That' fame), in collaboration with Jaron Boyer (who has just scored a number 1 with Dierks Bentley's 'Somewhere On A Beach', and who also helped craft Jason Aldean's 'My Kinda Party'), and Arron Goodvin ('Out Like That', for Luke Bryan). Some pretty big and pretty impressive names right there. So as you can see, Dawson is certainly movin' in the right circles. And your 'in-card' for those kind of circles is simple: talent. And Dawson's got it.
When you consider that singer/songwriter Dawson has also co-written with number 1 hit-writers like Byron Hill (of Toby Keith's smash hit, 'How Do You Like Me Now' ), Johnny Bulford (who gave us Chris Young's 'I'm Comin' Over' ), and Phil Barton (Lee Brice's 'A Woman Like You'), then it's clear to see that Dawson, and his new single 'LOVE WAS ALL YOU' , are pretty much straight out of Nashville, in all the best interpretations of the phrase!
But this isn't Dawson's first time venturing beyond the banks of the Cumberland. In fact, you could say Dawson's international appeal has already been confirmed. Receiving airplay in over 150 countries around the world, his debut album, 'Enjoy The Ride', was certainly aptly titled! Lead-off single 'If Crazy Wasn't So Beautiful' soared all the way to number 1 on the Queensland Hot Country chart in Australia, while the follow-up, 'Someone Watching Over Me', climbed its way into the Top Ten there, too.
"I love country music. I love to perform! I just want to create a sound that is true to who I am." So declares Dawson himself.
Dawson's enthusiasm is perhaps matched only by his determination. A determination clearly revealed by taking even a quick glance at some of the top Nashville number 1 hit-writers he has worked with, and how he has clearly reveled in immersing himself in the company of such prodigious talents, soaking up all the knowledge and wisdom of the songwriting craft that it's possible to gleam from sitting 'round a table with such writing luminaries. Not just those already named above, but also the likes of Ken Johnson, who has written for Frankie Ballard and Josh Thompson; and Chip Davis, who has provided hits for Kenny Rogers and Joe Diffie.
More that just soaking it all up, however, Dawson has also been joining the proverbial dots on each of those lessons learned in order to put those lessons into action, and create that sound he was hoping to,one which is 'true to who I am.'
Dawson's new single, 'Love Was All You', is just that. It pays homage to his small town roots in a way that makes the listener remember all the craziness of their own. But just like any great country song, love is right there at the heart of it all. Having shared the same stage as modern country giants Luke Bryan and The Band Perry, to name but two, Dawson's contemporary, edgy sound is very much in the heartbeat of the Nashville now.
Introducing Dawson Reigns, y'all. He's a 'shades on, six-pack, kickin' back cool' kinda guy.
Just like he sings in his brand new single, 'Love Was All You.'
UK TOUR DATES:
October 2 - Phoenix, Exeter (with Holloway Road)
October 3 - Fruit, Hull (with Holloway Road)
October 6 - The Railway Club, Fort William (with Holloway Road)
October 7 - Rock The Attic, Banbury (with Acoustic Journey)
October 8 - Dare's Basement, Birmingham (with Ash Cooper Band)
October 12 - Troubadour, London (with Sasha McVeigh & Luke and Mel)
October 13 - Gulliver's, Manchester (with Holloway Road)