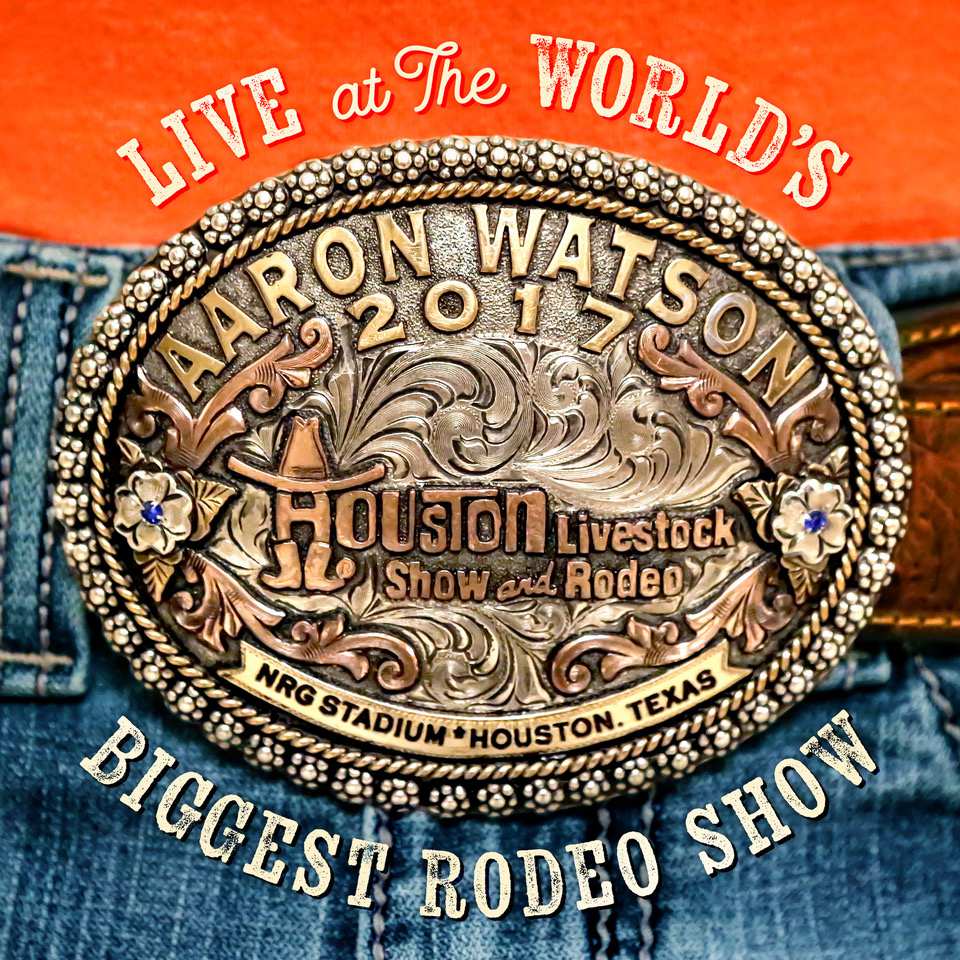 Recorded at Houston's Rodeo
Aaron Watson 'Live at the World's Biggest Rodeo Show', the "pioneering independent's" (Cowboys & Indians) 14th album and his first live album in nearly a decade, is set to release on August 24th 2018 and available to pre-order now, marking the one year anniversary of Hurricane Harvey's landfall on the south Texas coast (August 25, 2017). The Category 4 storm caused $125 billion in damage according to the US National Hurricane Center and impacted 13 million people in 41 Texas counties. $1.41 from each album sold will benefit the Rebuild Texas Fund, in recognition of the widespread devastation across Watson's beloved home state. Recorded live in front of 65,000 fans on opening night of the 2017 Rodeo Houston, the album is particularly poignant to the Texas born-and-bred singer/songwriter:

"We had planned on releasing this album in the second half of 2017, but after the storm it just didn't feel right," says Watson. "I've always wanted my music to do good in the world and it became clear that there was a real opportunity to hold onto this project and release it on the one year anniversary of the hurricane. So much of my home state of Texas was affected. Hopefully by bringing the recovery efforts back to the forefront, it will remind people that there is still so much work left to do. I'm also extremely proud to partner with the Rebuild Texas Fund, which makes sure every dollar goes back into the local communities, and help them raise money by donating a portion of the live album sales."
The collection contains 13 songs from Aaron's 18-year career, recorded live at the 2017 Rodeo Houston, and includes the emotional acoustic bonus track, "Higher Ground," - out today to stream and available to fans who pre-order the album - which Aaron wrote as Hurricane Harvey was devastating his home state of Texas.

"I was out of state touring when Harvey hit. I felt helpless being so far away," shares Watson. "This storm is personal to me. My grandparents lived in, and are buried in, an area that was devastated. Seeing that on the news and the people there struggling to escape, rescue each other and recover was the inspiration for writing the song 'Higher Ground.'"

Adding to the summertime excitement, Watson's new single from 'Vaquero', "Run Wild Horses," was just named one of Rolling Stone's 10 Best Country Songs of the Week, and is currently climbing the national radio charts. The video for the self-penned homage to his wife "turns the heat way up" (Taste of Country), premiered with CMT Music last month and has racked up positions on some impressive playlists including Pandora's New Country Now, Amazon Music's New In Country, Apple's Hot Tracks, and Randy Travis' "Diggin' Up Songs" on Spotify.
Aaron Watson Live at the World's Biggest Rodeo Show - track list:
"These Old Boots Have Roots" (Aaron Watson)
"Freight Train" (Aaron Watson, Troy Olsen, Tim Nichols)
"Real Good Time" (Aaron Watson)
"Raise Your Bottle" (Aaron Watson)
"That's Why God Loves Cowboys" (Aaron Watson, Troy Olsen, Sarah Buxton)
"That Look" (Aaron Watson)
"Outta Style" (Aaron Watson)
"Bluebonnets" (Julia's Song) (Aaron Watson)
"They Don't Make Em Like They Use To" (Aaron Watson)
"Fence Post" (Aaron Watson)
"Wildfire" (John Mayer)
"Getaway Truck" (Aaron Watson)
"July in Cheyenne" (Song for Lane's Momma) (Aaron Watson)
"Higher Ground" (Acoustic Bonus Track) (Aaron Watson)
ABOUT AARON WATSON:
Aaron Watson continues to dominate as a true independent in the country music arena. Watson's newest release and highly-anticipated album Vaquero launched into the Top 10 on the Billboard 200 Albums chart with his biggest career sales debut to date, and at #2 on the Top Country Albums chart. Texas Monthly, Billboard, Rolling Stone Country, Noisey, CMT, The Boot and more have all featured the new music. Vaquero is the follow up to his history-making album The Underdog, which debuted at #1 on the Billboard Top Country Albums chart, making him the first-ever independent, male country artist to debut in the coveted top spot. The album features lead single "Outta Style," his record-breaking Top 10 hit on country music's national radio airplay charts. His new single, "Run Wild Horses" has just hit country radio. Watson's rise has been paved by years of hard work and perseverance. Eighteen years later, over a dozen recorded albums, more than 2,500 shows in the U.S. and Europe, and a newly inked global distribution partnership with ADA Worldwide, the Texas native is determined to stay true to his roots and deliver music directly to his fans. Forthcoming UK headline tour dates (limited tickets remaining for all dates) :
5th September - Oran Mor, Glasgow
6th September - Band On The Wall, Manchester
7th September - The Dome, London
8th September - The Long Road Festival (w/ Carrie Underwood), Lutterworth